Louisville Misdemeanor Lawyer
Experienced Defense Against Misdemeanor Charges Throughout Jefferson County
If you have found yourself in any legal trouble, your first step should be to retain the services of a Louisville misdemeanor defense lawyer. At The Simon Law Office, we provide aggressive legal defense to individuals like yourself who are facing serious charges or who have been arrested.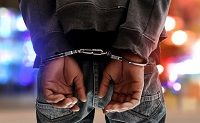 We have worked with many cases, from shoplifting to assault and battery, and we understand how the justice system prosecutes crimes. Our Louisville misdemeanor defense attorney is here to not only provide you with representation but support throughout your legal proceedings.
---
Have you been charged with a misdemeanor in Kentucky? Our Louisville misdemeanor attorney is ready to represent you. Call The Simon Law Office today at (502) 822-2074 or contact us online to start your defense
---
Misdemeanor Crimes We Defend Against
A few examples of misdemeanor crimes we defend include:
Trespassing
Petty theft
Disorderly conduct
Disturbing the peace
Drinking in a public place
Suspended license / no insurance
Leaving the scene of an accident
Traffic offenses
Drunk driving (without injury)
Solicitation
Prostitution
Assault and battery
What are the Consequences of a Criminal Conviction?
You could be facing very serious consequences if you are convicted, such as:
Significant fines & fees
Time in prison or jail
Permanent criminal record
Having a criminal record may not seem very scary at first, but it can affect your life for many years. Our goal is to help you prevent a conviction and the consequences which come with it.
Will I Pass a Background Check With a Misdemeanor?
A misdemeanor will show up on your background check. If you are applying for jobs, future employers can see the misdemeanor. Generally, misdemeanors are considered less severe than felonies, but they are still serious offenses that can carry jail time. Although we all make mistakes, misdemeanors will stay with you permanently. Some employers may have policies against hiring people convicted of crimes, including misdemeanors. Likewise, some employers may not hire employees with specific types of misdemeanors that the employer feels may impact the ability to perform the job duties. For instance, a house cleaning service may not want to hire someone with a theft or trespassing misdemeanor.
Contact Our Misdemeanor Attorney Today
At our firm, we are known in the community, by our clients, and our peers for our commitment to excellence. Throughout the time we have been in practice, we have had great success employing our proven defense techniques. We take the time to investigate all of the details of a particular case, gather sufficient evidence, and put together an effective strategy. You can rely on us to give your case the time and attention it deserves.
---
Contact The Simon Law Office today to schedule a FREE consultation with our misdemeanor lawyer!
---