Fighting Criminal Charges in Louisville
Let an Experienced Lawyer Defend Your Rights
If you are facing charges for a crime, your highest priority should be to enlist the services of a skilled criminal lawyer in Louisville, KY. Without an attorney on your side, you may fall victim to saying the wrong thing in front of a law enforcement official, which can be used against you in court.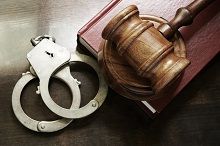 There is so much at stake when you are going through the criminal justice system, and having a skilled lawyer with you can maximize your chances of securing a favorable outcome. The Simon Law Office can defend your rights, reputation, and future.
Why choose The Simon Law Office?
We employ an ethical approach.
Our team makes use of highly effective strategies.
An attorney will tirelessly strive for favorable results on your behalf.
Free consultations are available.
We have earned a strong reputation from clients and peers.
Our lawyer has over 4 decades of experience.
Aggressive & Relentless Approach
At The Simon Law Office, we are capable of taking on a wide variety of cases at any level of complexity. We represent those who are accused of traffic violations up to capital murder and nearly everything in between. We regularly handle matters regarding theft crimes and misdemeanors. Before you plead guilty to anything, make sure that you discuss your options with a criminal defense lawyer from our firm. Our team takes a particular focus on drug crimes of all kinds. We are fully prepared to defend the rights of those who have been accused of possession, transportation, manufacturing, trafficking, and more.
What to Look for in a Criminal Defense Lawyer
If you have been charged with a crime in Louisville, whether it's a serious offense or just a misdemeanor, hiring the right criminal defense attorney to represent you is in your best interest. Choosing a lawyer with a proven record of success and years of experience to handle your case can make the difference between being convicted with a max sentence and having your charges completely dropped. When you are trying to determine which defense firm to contact for your case, think about these three things first.
Experience. With over 30 years of experience, The Simon Law Office has handled a wide variety of criminal cases. Experience is a vital resource that attorneys pull from when defending a client.
Results. Experience is nothing without proven success. Our Louisville criminal defense attorney has successfully defended numerous cases of varying complexities, including felony level charges.
Dedication. No matter what kind of charges you face, you want an attorney to put your best interests first. Our legal team won't shy away from aggressively fighting to protect your rights and freedom.
If you or your loved one has been charged with a crime, do not wait to secure skilled legal representation for your case.
Don't Take Chances with Your Future
It is in your best interest to secure legal representation as soon as possible. You need to know that you are fully defended as you move forward with your case. The Simon Law Office has the vast experience you need and the proven track record of success that it takes to help our clients win.
Contact us today to schedule a free consultation with our Louisville criminal defense lawyer.